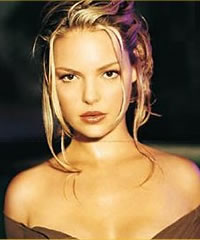 The 'Killers' star Katherine Heigl is celebrating her 33rd birthday today. She was born on November 24, 1978 in Washington, D.C., U.S.
American actress and producer Katherine Heigl is best known for playing Dr. Izzie Stevens on ABC's Grey's Anatomy. She also won a 'Primetime Emmy Award for Outstanding Supporting Actress – Drama Series' for this role in 2007. Some of her films include 27 Dresses, The Ugly Truth, Knocked Up, Zyzzyx Road,Life As We Know It, The Ringer, Bride of Chucky, and Caffeine.
Katherine Heigl has also been starred on television such as in The Twilight Zone, Love Comes Softly, Evil Never Dies, Love's Enduring Promise and many more.