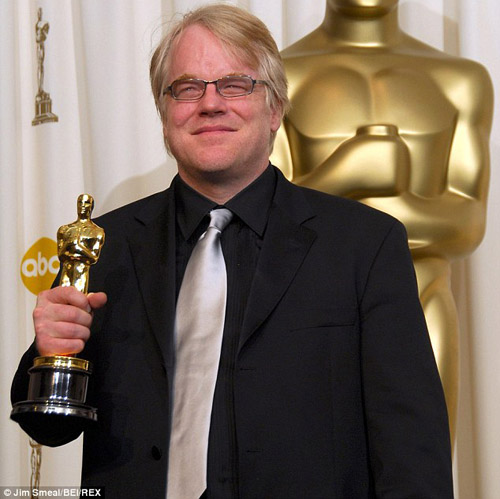 Oscar winning actor Philip Seymour Hoffman has been found dead in his Manhattan apartment after an apparent drug overdose. According to law enforcement, the American actor and father of three was found on the bathroom floor of apartment 4D in his $10,000 a month West Village apartment Sunday morning wearing only shorts and t-shirt with a hypodermic needle sticking out of his left arm surrounded by empty bags of heroin. Just before 7 p.m., medical examiners finally removed Mr Hoffman's body from the apartment where it had remained all day. Crime scene unit investigators spent the entire afternoon and early evening collecting evidence from the home. Mr Hoffman won the best actor Academy Award for the 2005 film, Capote.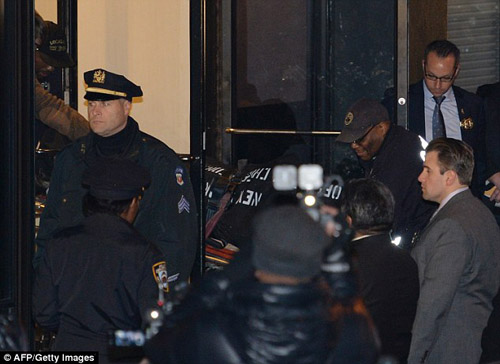 Mimi O'Donnell, Philip Seymour Hoffman partner of 14 years and the mother of his three children, first raised the alarm after he failed to collect son Cooper, 10, and daughters Tallulah, 7, and Willa, 5, as arranged. The actor and Miss O'Donnell reportedly separated in October, when it is believed he moved into the two bedroom West Village apartment. The apartment is just a few blocks from the family's $4 million home in Jane Street. Worried, Miss O'Donnell phoned their mutual friend, David Bar Katz, who went to check on the actor with a female friend and the pair discovered his lifeless body in the bathroom of the apartment. 'I saw him last week, and he was clean and sober, his old self,' Mr Katz, a screenwriter, told the New York Times later Sunday. He said he called 911 after finding Mr Hoffman. 'I really thought this chapter was over.'
Police described seeing a home filled with pictures of his three children. In stark contrast, however, investigators discovered heroin envelopes in the bathroom trash marked in purple with either an Ace of Spades or an Ace of Hearts, according to the Daily Beast. Police have said they are working to determine which drug dealers in Manhattan use those brand names, which haven't been seen in New York City since 2008. Authorities confirmed that the last time the stage and film actor was seen was at 8 p.m. on Saturday.'That was not like him,' one police official said of his failure to collect his children. The Office of the Chief Medical Examiner is yet to determine his exact cause of death – but law enforcement sources speaking to the New York Post said a drug overdose was to blame. Cops found a charred spoon in the kitchen sink, police sources told the New York Post.
Witnesses said Miss O'Donnell arrived at the Bethune Street apartment in tears but wasn't allowed into the bathroom to see the father of her three children. A relative told The Post: 'We're just really devastated that this could happen.'There had always been a concern with the business he was in,' said Doris Barr, 76, whose son is married to Philip Seymour Hoffman sister. Speculation is rife the actor was killed by a deadly new variant of the opiate known as white heroin. The lethal combination of heroin and fentanyl, an opiate used to soothe the pain of cancer patients, is blamed for about 100 deaths from coast to coast – it has killed 22 in Pittsburgh in the past two weeks, 37 more in Maryland since September and 22 in Rhode Island this month.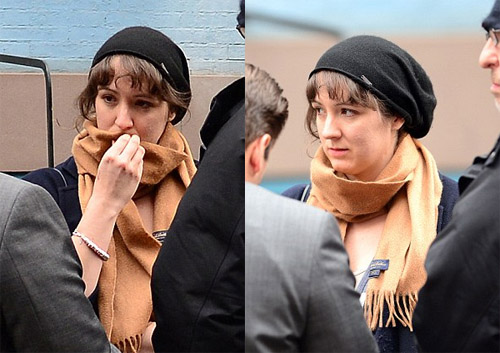 Authorities say the easiest way to spot the more lethal heroin cocktail is because it is white. Heroin usually has a yellow tint to it. After Mr Katz called 911, emergency workers rushed to the scene where Mr Hoffman was discovered to be unconscious and unresponsive – and was declared dead on arrival. Just before 7 p.m., after CSU investigators, wearing white plastic suits, spent the afternoon and early evening going in and out of Mr Hoffman's apartment, the crime scene van moved to make way for the medical examiners wagon to pull up to the building. Police flanked both sides of the van all the way to the buildings entrance to block photographers from taking pictures. After 10 somber minutes, a stretcher was wheeled out carrying a figure covered in black plastic and was loaded into the wagon before being quickly whisked away with blaring horns and blinding blue and red lights.
Neighbors earlier said the actor looked ill when they last saw him. 'Just the other day I saw him getting out of his mini cooper with his kids and his wife I guess. He was in sweatpants and a beanie and he looked disheveled,' said Olivia De Santis as more than 100 people gathered outside the actor's home. The apartment Philip Seymour Hoffman was living in is three blocks from the three-bedroom, two-and-a-half bathroom apartment on Jane Street he and Miss O'Donnell bought for $4.4 million in 2008. The news of Mr Hoffman's death came just one day after representatives for the actor issued a statement denying he was dead after an internet hoax claimed the star had passed away on Saturday.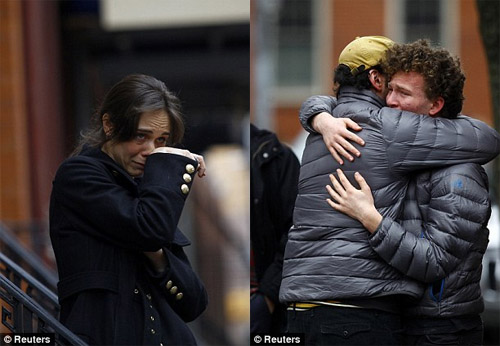 Mr Hoffman admitted struggling with drug addiction in the past, and reportedly checked himself into rehab in May last year for heroin abuse after 23 years of being clean. The family of the actor issued a statement to the media in the aftermath of his death to thank everyone for their support.'We are devastated by the loss of our beloved Phil and appreciate the outpouring of love and support we have received from everyone.'This is a tagic and sudden loss and we ask that you respect our provacy during this time of grieving. The Capote star was also nominated for three Best Supporting Actor Oscars – for The Master, Doubt, and Charlie Wilson's War. He most recently appeared in Hunger Games: Catching Fire alongside Jennifer Lawrence and sources at Lionsgate say his work as Plutarch Heavensbee was 'substantially complete' on Mockingjay: Part I.
Producers Lionsgate issues a statement to say, 'Philip Seymour Hoffman was a singular talent and one of the most gifted actors of our generation. 'We're very fortunate that he graced our Hunger Games family. Losing him in his prime is a tragedy, and we send our deepest condolences to Philip's family.' He had seven days left of shooting and his death won't affect release date of the final two films. The Fairport, New York, native reportedly told TMZ in May that he began taking heroin again after progressing from prescription pills and then ultimately snorting heroin. He claimed that he only used heroin for a week before he realized he needed help and checked himself into a detox facility on the East Coast. He spent 10 days receiving treatment and credited a 'great group of friends and family' for helping Mr Hoffman was seen in public at the Sundance Film Festival last month promoting his movie, 'God's Pocket' and 'A Most Wanted Man.'
He appeared 'slightly disheveled and pasty' according to the New York Post and declined interviews.At the time his representative said he 'needed a minute and didn't feel like coming down yet.' In A Most Wanted Man, an espionage thriller based on the John le Carre novel, he played German spy Gunther Bachmann. At the premiere, Hoffman told Reuters that he connected to Gunther's personality, a man driven by the shame of previous failure into an obsessive pursuit of capturing terrorists by any means necessary.
I think it'd be hard for anyone not to connect with the loneliness. He's pretty lonely, driven, obsessive guy, unforgiving of himself in a lot of ways. A lot of traits that a lot of people carry in one grade or another,' Hoffman said. The film's director, Anton Corbijn, said the actor's passing came as a huge 'shock' and he seemed fine just weeks ago. 'We spent some time together only [two] weeks ago and he seemed in a good place despite some issues he had to deal with,' Mr Corbijn told the Post. 'He was not only the most gifted actor I ever worked with (and judging by the legacy he leaves behind I am certain I share this with most if not all directors who were fortunate enough to work with him), he had also become an incredibly inspiring and supportive friend.
I am so terribly sad as I find it impossible to comprehend what happened today and to collect my thoughts properly.' He added: 'I have to think about Mimi O'Donnell and the children and I wish them much strength coping with the loss of this truly great man as a father and partner.' In 2006, Mr Hoffman admitted his history of substance abuse after he graduated from NYU's drama school. 'It was all that drugs and alcohol, yeah. It was anything I could get my hands on…I liked it all,' he told 60 Minutes at the time. Mr Hoffman, who was no matinee idol figure with his tubby build and scruffy blond hair, made his career mostly as a character actor. He brought a workmanlike intensity to his roles, often played characters with innate intelligence and logical minds riven by underlying passion.
His on-screen persona could range from professorial to unkempt, from the aloof intellectual to the everyman. In one of his earliest films, he played a spoiled prep school student in 'Scent of a Woman' in 1992. However, perhaps his breakthrough role came as a gay member of a porno film crew in 'Boogie Nights,' one of several movies directed by Paul Thomas Anderson that he would eventually appear in. His character in the 1997 hit helped make Mark Wahlberg a star. He often played comic, slightly off-kilter roles in movies like 'Along Came Polly,'
"The Big Lebowski' and 'Almost Famous.' Though he appeared in blockbusters such as 'Twister' and 'The Hunger Games' series, he was more often associated with the independent film world for his portrayals of often disturbing and complex characters in such films as 'Happiness,' in which he played an obscene phone caller, and 'Before the Devil Knows You're Dead.'
-Dailymail