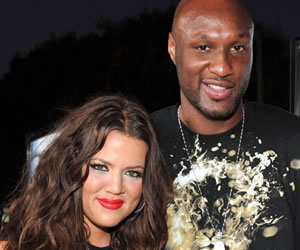 Khloe Kardashian's husband is embroiled in a bitter legal battle with his ex-girlfriend Liza Morales over their children. Lamar Odom – who plays basketball for the Los Angeles Clippers – appeared in court in New York on Tuesday (05.03.13) over his child support payments and visitation rights with his 15-year-old daughter Destiny and 11-year-old son Lamar Jr.
The former couple are also reportedly fighting about whether their son and daughter, who previously made cameos on the E! series 'Khloe & Lamar', can appear on 'Keeping Up With The Kardashians' alongside him and their stepmother Khloe. The 33-year-old athlete, who dated 'Starter Wives' star Liza, 32, for 10 years, told gossip website TMZ that he fell asleep outside the courtroom before the hearing because of his jet lag but declined to comment on the case.
The court battle came just hours after Lamar and Khloe came face to face with her sister Kim's estranged husband Kris Humphries in New York restaurant Catch. The brunette beauty allegedly concealed herself behind a menu after spotting Kris, who is refusing to give Kim a divorce and wants an annulment because he claims she only married him to boost the ratings of her reality show.
Khloe, whose maternal instincts were previously called into question by Liza, did not appear in court alongside her husband of three years. Asked about Khloe, who has been open about her fertility struggles – Liza previously said: "I don't know if she's good maternally, I don't know. As long as my kids are good, I'm good. As long as my kids are taken care of and I haven't heard anything negative, then I'm good." – Femalefirst