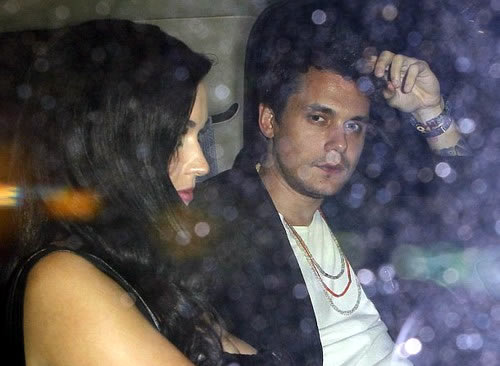 Katy Perry partied with John Mayer in New York City on Saturday night (22.06.13). The 'Wide Awake' hitmaker, who recently confessed she is still "madly in love" with the 'Neon' singer despite insisting their relationship is over, was eager not to be photographed with him and arrived at a venue separately, according to the MailOnline website.
The on/off couple's latest reunion comes just days after Katy claimed she is "definitely" single again. She said: "It's over … I was madly in love with him. I still am madly in love with him. All I can say about that relationship is that he's got a beautiful mind. Beautiful mind, tortured soul. I do have to figure out why I am attracted to these broken birds."
The brunette beauty, who was previously married to Russell Brand, also enjoyed a night out with John, 35, in Los Angeles earlier this month. She and the singer/songwriter were joined by 15 of their other friends at the Chateau Marmont in West Hollywood. source previously said: "They are just hanging out. They are not putting a label on it." A close pal previously predicted that the couple might reunite following their last split.
The insider said: "It's not over until it's over. You have to see how things play out." – Femalefirst