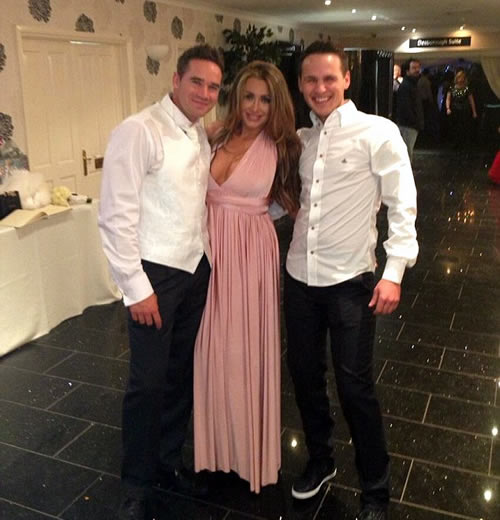 Katie Price walked down the aisle for the fourth time earlier in the day, while managing to keep many of the details of her big day under wraps. But eager to tell everyone about the special occasion Lauren Goodger took to Twitter on Friday evening and shared a snap of herself posing up with the newly married Kieran Hayler and her own boyfriend Jake McLean.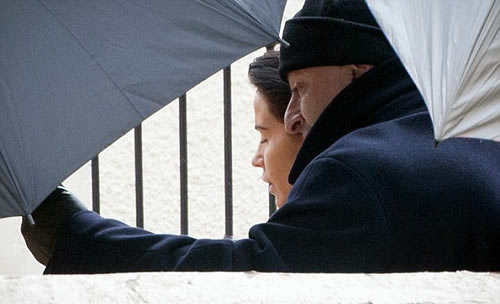 Revealing the first picture from inside Rookery Manor in Weston-Super-Mare, the former TOWIE star wrote: 'Wedding of the year.' The image shows the 26-year-old with her arms around both men just outside a suite in the venue. Wearing a low cut pink gown Lauren is grinning, while Kieran looks equally as happy and relaxed, having taken off his suit jacket.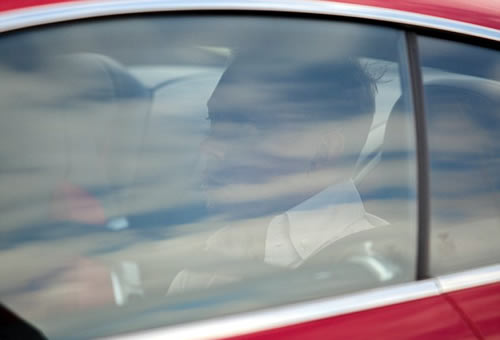 The reality star looks really pretty with her long hair falling loosely around her shoulders, as she shows off her figure. Lauren's boyfriend Jake however looks rather under dressed, wearing an untucked white shirt with trainers. But, regardless of his somewhat unsuitable attire,  he appears to be having the best time as he is laughing hysterically at the camera.
In the background a table can be seen with what looks like the wedding book on it, ready for guests to sign. Behind the friends a few people can be seen entering the party area, where the likes of Rylan Clark and Danielle O'Hara were enjoying the party.  The extravagant reception was held in a room which looked like something out of Willy Wonka's chocolate factory.
Tables were adorned with vases of sweets and giant multi-coloured lollipops instead of floral centre-pieces, and giant sweets were specially made to decorate the room. The three-course menu included classic Caribbean dishes in a nod to their first wedding in the Bahamas, and a vast drinks menu for guests meant the celebrations continued well into the early hours of this morning.
Earlier in the day Katie and Kieran tied the knot in a brief ceremony in a make-shift Indian temple created inside the hotel, which involved up to 12 bridesmaids and a Gospel choir. Once the party finishes the couple will be staying in the honeymoon suite with a four-poster bed and hot-tub, but the hotel is much more modest than Katie is used to.
Wedding packages there start from just £2,000, while the relatively small grounds are surrounded by nothing but fields, while busy M5 motorway is within earshot.