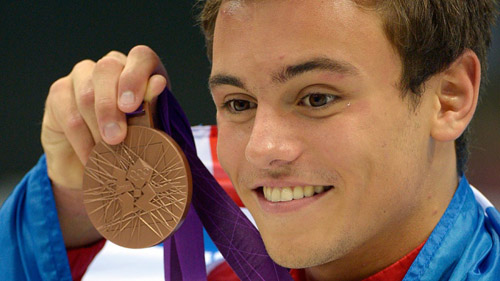 Daley, 19, says in the video, "Come spring this year, my life changed massively when I met someone and it made me feel so happy, so safe and everything just feels great. And that someone is a guy." He then adds, "It was always in the back of my head that something like that could happen, but it wasn't until spring this year that something just clicked … My whole world just changed, right there and then."
Still, Daley stops short of using either the term "gay" or "bisexual." "Of course I still fancy girls," he says. "But I mean, right now I'm dating a guy and I couldn't be happier. It makes me feel safe and just really does feel right." The diver, who tweeted the video to his more than 2.4 million Twitter followers, concludes, "I'm still Tom. I still want to win an Olympic gold medal at Rio 2016 for Great Britain.
I'm still as motivated as ever to do that." Daley's sexuality had been the subject of ample media speculation for some time. The diver, who won a bronze medal at the 2012 London Summer Olympics and was recently named the sexiest man in the world by Attitude magazine, laughed off the gay rumors in an interview with The Mirror earlier this year. "I think it's funny when people say I'm gay… I laugh it off… I'm not," he was quoted as saying.
"But even if I was, I wouldn't be ashamed. It wouldn't bother me in the slightest what people thought." Still, Daley said he was "cool" with his sizable gay fanbase: "It's great to have gay fans even though my friends gently take the mick." -Huffingtonpost