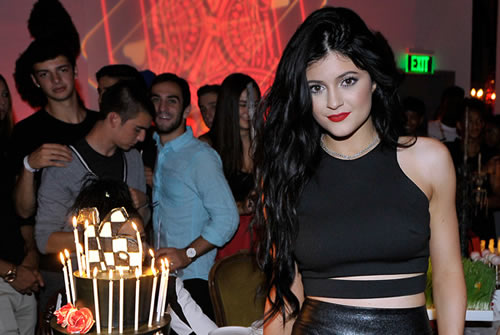 Kylie Jenner's 16th birthday bash was the "party of the year". The reality TV star threw a huge party to celebrate her milestone birthday over the weekend and although her older sister Kim, 32, was in Oklahoma for the funeral of her boyfriend Kanye West's grandfather, she posted about Kylie's soiree on her personal blog.
Kim wrote: "I heard Kylie's sweet 16 was the party of the year! Sadly, Kanye and I couldn't attend as we were in Oklahoma for his grandfather's funeral. "I got phone calls about it afterwards and saw all of the videos on Keek and photos on Instagram. It looked like so much fun! Xo (sic)."
However, Kylie was joined by dozens of guests, including her other famous sisters Khloe and Kourtney Kardashian and Kendall Jenner, as well as her boyfriend Jaden Smith, at her Alice in Wonderland-themed party. Rappers Drake and Big Sean took to the stage and performed some of their biggest hits, and 'Glee' star Naya Rivera and Willow Smith were also present.
A camera crew from the family's E! reality series 'Keeping Up With The Kardashians' was on hand to film the party, which took place at the AT&T Centre in Downtown Los Angeles. Shortly after the event, Kylie tweeted: "Thank u to everyone who came to my party and making my night so special HAD THE BESTTT NIGHTTT (Sic)"
She later added: "DRAKE & BIG SEAN what?! Thank you guys so much xx"
Via: Femalefirst