Pregnant Kourtney Kardashian covers up her bump as she dines out with Scott Disick… despite relationship woes on show.
[contentblock id=1 img=adsense.png]
They're relationship may seem like it's on the rocks on the small screen, but in real life Kourtney Kardashian and Scott Disick look far more solid together. On Monday night the couple were seen out for dinner, holdings hands as they left King's Fish House in Calabasas, Los Angeles. This is the second time in a row pregnant Kourtney and Scott have dined out despite their reality show showing the pair in a romantic crisis.
[contentblock id=2 img=adsense.png]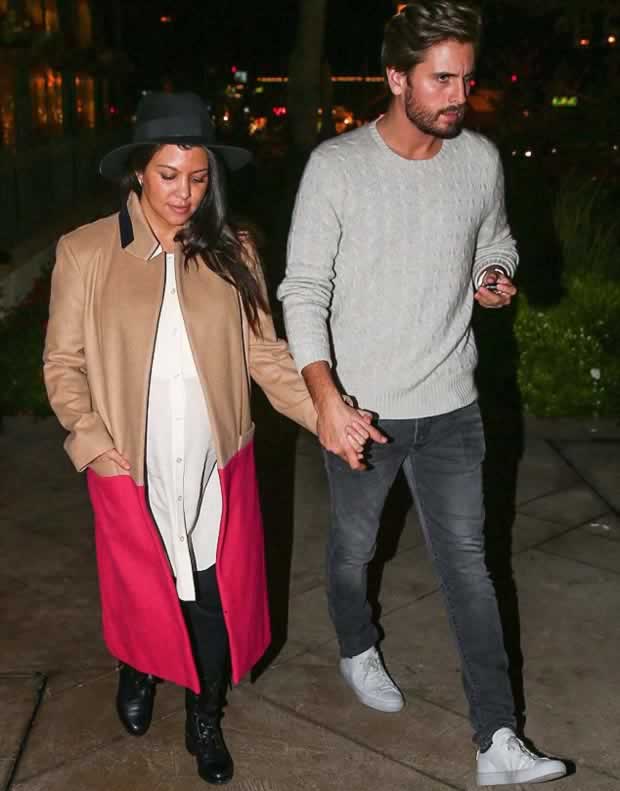 The mother-to-be looked stylish in an oversized white shirt over black jeans and boots, with an elegant camel and red coat and Fedora on her head. Kourtney went make-up free for the evening, while her fiancé opted for a simple grey sweater over faded jeans and matching tennis shoes. Their date came as the latest episode of KKTH aired, showing Kourtney's sister Kim accuse their friend Jonathan Cheban of selling stories about their relationship to the tabloids.
[contentblock id=3 img=gcb.png]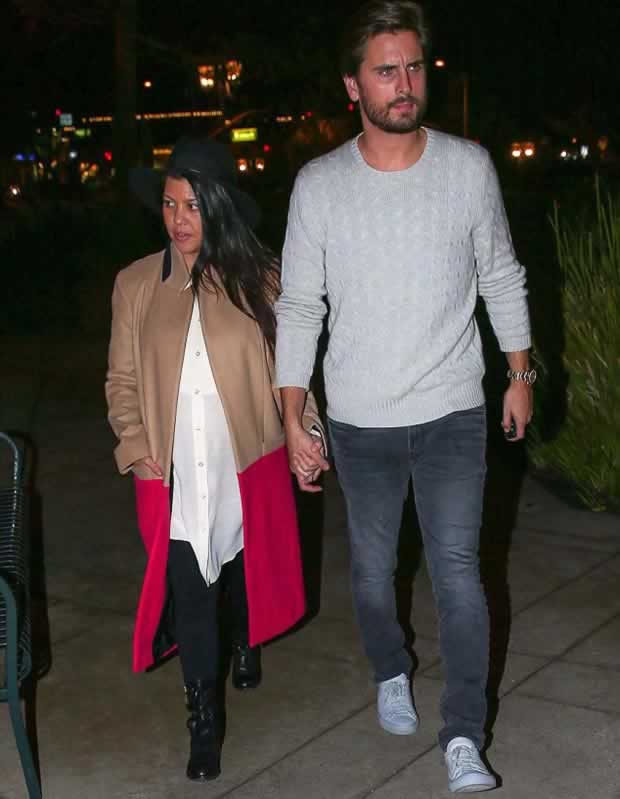 The drama unfolded on Sunday's episode of Kourtney And Khloe Take the Hamptons as the 34-year-old reality star confronted former publicist Jonathan during a trip to the New Jersey Shore. Before the trip, Kourtney had asked Kim to not tell Jonathan anything about her situation with Scott because she believed Jonathan could be leaking information.
Jonathan suggested going to the New Jersey Shore for their day out, and during the drive Kim talked about the problems with Scott and Kourtney, against her older sister's wishes. 'I was with you the entire night. When am I giving out information? Do you not think I have anything better to do in my life?' Jonathan shouted.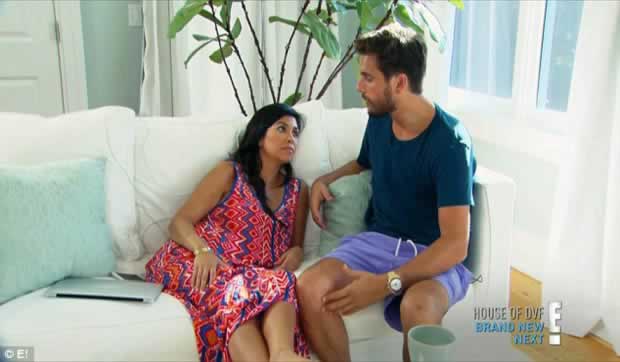 'This is so f***ing rude. You are really p***ing me off right now,' he said before flinging a box of doughnuts at Kim. 'You are a b***h. I'm leaving. Take my phone, take the doughnuts and go f**k yourself,' said Jonathan before storming out. Kim then went through his phone and did not find any trace of the story. She was eventually told that the story had come from a photographer who recognised the therapist and not from Jonathan.
He confessed: 'I know that I needed to get some help and that dealing with it all myself was not going to work. I basically needed a reboot, to start over again, to kinda feel normal again, to get everything out of my system and detox. I think this place really did it for me.' Over the phone Scott told Khloe that he felt more clear-headed than he had in years. But he admitted he did not want to see Kim after she 'told half of New York' Scott had tried to kill himself. 'Now everybody is looking at me like I am some kind of psychopath who tried to kill himself. It is too much for me to handle right now,' said Scott.