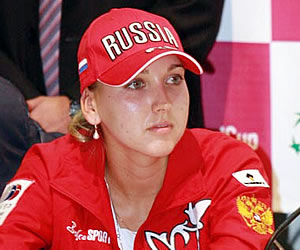 The cute and dynamic Russian professional female tennis player Elena Sergeevna Vesnina is celebrating her 26th birthday today. She was born on 1 August 1986 in Lviv, Ukrainian Soviet Socialist Republic, Soviet Union.
Elena Vesnina made her entry into professional tennis playing with 10,000 tournament at Giza, Egypt at the age of sixteen years old and qualified the draw. Since then she has played number of championships. Recently, she has played in 2012 Family Circle Cup, winning the first round of match.
We wish her good luck for her future and very happy birthday.