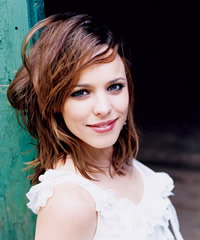 The ravishing actress of 'The Notebook' Rachel McAdams is celebrating her 33rd birthday today. She was born on November 17, 1978 in London, Ontario, Canada.
Rachel McAdams is a Canadian actress. She got wide recognition for performing in films such as Mean Girls and The Notebook. She was named as "the next Julia Roberts" by the media for her roles in films such as Wedding Crashers, Red Eye and The Family Stone.
Rachel McAdams took a short break in 2006 and then returned to prominence in 2009 with her roles in films such as State of Play, The Time Traveler's Wife, action-adventure Sherlock Holmes.
Some of Rachel McAdams' other films include Morning Glory, Midnight in Paris, Earth: Final Conflict, The Hot Chick, and Perfect Pie. In 2005, Rachel McAdams won a MTV Movie Awards for Best Breakthrough Female Performance for her film 'Mean Girls' and the Best Kiss (shared with Ryan Gosling) for her film 'The Notebook'.
Find Rachel Mcadams Pictures below: