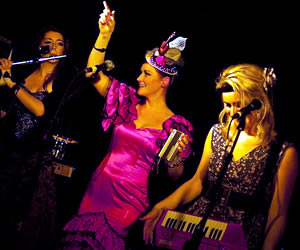 Opera is a form of music that incorporates many elements of the spoken theatre that includes text, musical score, costumes, acting and scenery. Although opera is part of the western classical music but it is still performed in opera houses these days.
Opera is of many different types like comic opera, serious opera, opera cornique, grand opera and opera verismo. Furthermore, as opera is used as a tool to convey sentiments it is seen in many popular movies like The fifth element, The hunger and Life is beautiful. Because of its emotional nature, opera instantly conveys particular feelings of both men and women. This is the main reason due to which opera is liked by many people. In addition, there are other reasons to like opera as well which are as follows:
1. Opera can transport you to destinations that any sort of Airways could never service because it does not take any time for an opera to easily grow on you.
2. Opera is highly romantic, because a lot of emotional sentiments are attached to it.  The tunes of opera find a passage to enter your skin and goes into your blood stream.
3. If somebody is given a choice to choose between an organ or opera for a wedding, opera would be the best choice. This shows that opera has a strong connection with the weddings and hence, gives one a very strong reason to like it.
4. Moreover, nobody has the nerves to bear Eminem's "lose yourself" every day. This shows that the historical music like opera has its own charm.
5. Opera is gorgeous to hear. The tunes are magical as it instantly gathers everyone's attention.
6. Unlike all other sorts of music, opera is realistic. When you listen to it, you have a feeling that something real and pure is happening to you.
7. One of the many reasons to like opera is that it brings back your childhood memories.
8. The theme of opera and the way it is sung is so sensual that you cannot resist it even if you want to.
9. Another dramatic reason to love opera is that the affair dies with the heroine. Most of the romantic operas follow this theme and the reason to like this is that nobody would expect such a dramatic ending which leaves the audience in sorrows and tears.
10. Opera is hard to beat for drama as well as melody. A perfect opera example is of Tosca. Tosca is a must watch opera which circles around the events of the tragedy of Tosca and her lover to the villainy of  Scarpia.