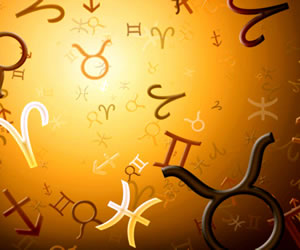 Business Horoscope March 12 to March 17
Aries Horoscope
If it feels like you're running out of steam just when your professional year should be finding its feet, it's because the main push to get things up to speed is already behind you. Like a plane on a long haul flight, when the engines need to be at full throttle in order to take off and achieve cruising altitude, once that is achieved the throttle is eased back, the pilots are able to engage autopilot, stretch their legs and maybe go back and chat with some of the passengers. They'll have to keep an eye on the systems and they'll eventually have to land, which will require their full concentration, but on the middle stretch of the journey things become more about keeping the engines turning and the plane on course. That's the stage you've reached in your professional year.
Taurus Horoscope
Because the Moon only left your career sector on Sunday you're able to move into the new week with your professional instincts, your finger on the pulse and your ear to the ground, giving yourself time to process the valuable clues, hunches and insights gained over the weekend. This would be true of any of the Moon's monthly visits to your career sector, but even more so this time as this was the first visit since not only Venus left, but all the planetary activity for the year ran its course. This has given you a chance to tap back into the professional desires and expectations Venus left you with and the objectives developed in the first two months of the year, while using your professional instincts to narrow this down to the specifics of where to from here.
Gemini Horoscope
If ever there was a week where you need to show up from the get go, with all your senses focused, your sleeves rolled up and ready to play your A game it's this week. You're moving into the new week with 7 cosmic bodies in your career sector, more than at any time ever or ever again, with every ounce of your concentration needing to be focused on getting your professional game, year and matters up to speed. Of course you couldn't keep this up for long, but then you don't need to. With Mars leaving your career sector on Tuesday and the Sun and Venus next week, all you need to do is be ready and willing to put everything on the line in the lead up and during Tuesday's New Moon. With Mercury keeping the door open to second chances leave no room for regret and no stone uncovered.
Cancer Horoscope
If you find yourself dealing with a case of Mondayitis in the early hours of the week embrace it, because you not only have an abundance of planetary activity in an adventurous part of your chart in the lead up to Tuesday's New Moon, it's not long after that, that the most driven professional months of 2013 kick off. It's within hours of Tuesday's New Moon that Mars, warrior planet of the cosmos will return to your career sector for his first visit in 2 years and only his second encounter with Uranus here in 8 decades. With the Moon returning to your career sector on Wednesday this is when your professional instincts will kick in, along with an even more intense focus. This kicks off some defining professional months, with your professional passions and instincts leading the way forward.
Leo Horoscope
With Pluto moving into his final month in direct motion in your work sector mid week and already slowing down, this is not a time to push or rush anything. However, at the same time it's not a time to be dragging the chain either, with a need to take your cues from each situation as it arises. While the door will open next month to second chances it will also slow down any forward momentum and there will be some things that need to be pushed through before that happens. It's the Moon's return to your career sector on Friday, a month to the day before new doors open that will both sharpen your professional instincts and give you a better sense of timing. It's then that you'll have a better sense of when to push forward and when to pull back, with a need to keep your mind and options open.
Virgo Horoscope
It's on the work front that you may be a little sensitive in the early hours of the week, but you'll also still be picking up on some valuable clues, hunches and insights. It was only on Sunday that the Moon wrapped up his first visit to your work sector since Venus not only left late last month, but wrapped up all the planetary activity for the year. With everything out in the open, in the early part of the week, you're still processing the emotional and intuitive responses to work matters that are likely to have come to a head late last week and over the weekend, with a need to take time to process what it means. As the week progresses you'll have a chance to get to the real message behind this. Tying up loose ends on the work front will leave you free to pursue new professional avenues.
Libra Horoscope
There'll be no time for Mondayitis or slacking off as you move into the new working week, with a need to be game ready, your sleeves rolled up, your work hat on and ready to play your A game from the get go, ready to put everything you have into everything you do. Of course you can't keep up this pace all week, but then you won't have to, with Monday and Tuesday the most important days to have your game face on. For it's in the lead up to both a New Moon in your work sector on Tuesday and Mars' departure on the same day that you need to be ready to put everything on the line. Yet as urgent as things might seem, with Mercury still in retrograde motion and the Sun and Venus not leaving until next week, you'll have plenty of time to tie up loose ends once things are up to speed.
Scorpio Horoscope
While your new working year may have technically begun earlier in the year, as far as the stars are concerned this is the week it all begins. While having Uranus, planet of surprise and synchronicity in your work sector for the long term will mean that things never quite go off the boil, here for the last 2 years and not due to leave until 2019, for the most part he'll work in the background. That all changes on Tuesday when Mars, warrior planet of the cosmos returns to your work sector for the first time in 2 years, teaming up with Uranus for only the second time here in 8 decades. It's the Moon's return to your work sector on Wednesday, during Mars' first full day that will see your instincts kick in early in the game. This is the start of the busiest months of 2013.
Sagittarius Horoscope
For the majority of the week it's more about keeping the wheels turning and with no planets in either of your professional houses to focus more on keeping things ticking over. However, it's on Friday and over the weekend that you need to keep your finger on the pulse and your ear to the ground, especially on the work front, for it's then that you're likely to get the first clues of some big changes next month. It's the Moon's return to your work sector on Friday, a month to the day before Venus is due to return, kicking off the busiest and most defining months of the year on the work front, that will give you your first real chance to start lining up at the right doors before they open. At this stage this will only be indicators, but the more of a jump start you can get the better.
Capricorn Horoscope
Use the nose for money you're likely to move into the new week with to your advantage, especially when it comes to where you need to be putting your time and energy now that things are starting to move on the work front. While you won't hit your stride until May you should be starting to get a sense of which direction things are moving and the wheels should be starting to turn. By midweek it will have been 6 weeks since Jupiter turned direct in your work sector, long enough to start breaking free from the suction of the past and to get the wheels moving again. At this stage it's still about walking before you run, but knowing where the money is and having had a chance to redefine your priorities, you should have a clearer sense of which direction you need to be striking out in.
Aquarius Horoscope
In a week where everything is coming together on the income front, with Mars' departure from your income sector coinciding with a New Moon on Tuesday, professional forces are more a support act. With Saturn still in his first month in retrograde motion and not turning direct until July and new doors not opening on the career front until June, there is little, if any professional urgency but a growing sense of confidence. It's the strong professional foundation that is being built and the longevity of this support, taking you through to 2015, that gives you the confidence to attack any glass ceilings on the income front with a sledge hammer this week. With the door opening to new opportunities and second chances, for once it really is all about the money.
Pisces Horoscope
Where things had been fairly quiet on the professional front, with no planetary activity in either your work or career sectors, they're likely to fire back into life this week and not of their own volition. You still have no planetary activity in either of your professional houses and even the Moon, who visits your work and career sectors on an alternate rolling schedule every 2 weeks, is staying clear. What is driving a sudden surge is money and it begins with Mars' return to your income sector on Tuesday. It's then that Mars, along with the Moon's return on Wednesday and the nose for money that comes with it, will tap into every professional resources you have in order to start attacking any glass ceilings with a sledge hammer. Mars will be bringing the big guns from the start. – Astrolis