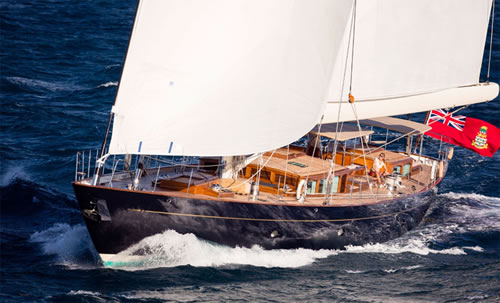 Pumula Yacht Hearkens to the Golden Age of Sailing
As someone who spent much of her childhood on a sailboat, I can tell you firsthand that there's nothing quite like a well-made sailboat to take you through the sea.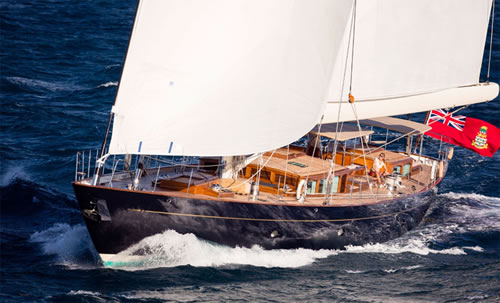 Whether crafted for racing or relaxation, sailboats have an elegance about them that hearken to the past. Yacht brands try their hardest to be the best and while I'm certainly not claiming Royal Huisman is the best, their 123-foot-long Pumula yacht is pretty impressive all the same.
With naval architecture by Dykstra Naval Architects, Pumula is a cruising yacht that was built specifically to bring forth nostalgia in the owner, reminding them of an era past. One of the ways they do this is with the navigation systems. Unlike most modern boats that have visible screens, Pumula's navigation screens are hidden when not in use, creating a smooth helm (made up of a central wheel) without any technological disruptions. While the yacht includes high-tech communication systems, it also features a SSB (Single Side Band) radio for long distance sailors who like to chat old school.
Pumula features two teak deckhouses, including a dining area, that are found on an open deck above "a sensitively sheered hull with an elegant transom stern." Featuring margin-free hatches, the design of the deck gives the impression of "continuous planking." Here you will find "advanced sail handling technologies and yacht management systems" that will make your journey easier to manage since it only needs two people to handle it. With a hull speed of 12.53 knots (around 14 miles per hour), there is also a fully ballasted and retractable bulb keel below the waterline.
Rhoades Young designed the interior to give a fresh and comfortable atmosphere, using tropical colors and warm textures. With one master, three guest, and two crew cabins, there is more than enough room for large groups. Oak is used throughout, including the flooring and furniture, which was treated to appear weathered and aged. Nostalgia seeps into the interior aesthetic as well, especially through the neat "saddle-stitched leather-bound bedside tables, inspired by suitcases from the golden age of cruise liners."
Delivered to her owners last year, Pumula has already undergone many voyages — 12,000 nautical miles worth to be exact. According to Mega Yacht News, her maiden voyage included "the remote Norwegian Sea archipelago of Spitsbergen, which is on the edge of the North Pole.
While you can't have this particular boat, if you've wanted something with an old Hollywood look, Royal Huisman is where you should turn. The family-owned company builds custom yachts tailored to your needs, from the golden age of cruise liners to modern racing vessels. They also have certain yachts for sale and provide superyacht refit, repair, and renewal services.
Via: Justluxe