Vinotemp Stainless Steel 4-Bottle Wine Dispenser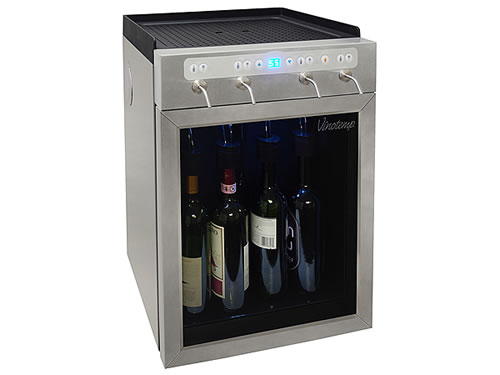 Vinotemp brings to the wine market- the new Stainless Steel 4-Bottle Wine Dispenser to allure the wine lovers. The new dispenser has a striking portion control feature that has the ability to customize the amount of wine to be poured in the glass at the push of a button at 2, 5 and 7 ounce, a treat for the users. With such a great precision, there is null possibility of over or under pouring, a great way of avoiding breakage and spillage. The dispenser preserves and stores your precious 4 open bottles of wine fresh for several weeks thanks to the use of nitrogen or argon gas. An interior LED blue light illuminates bottles while the double paned glass door makes the wine display all showy and elegant. An additional storage space is provided by a shelf on the top of the unit. It comes with two gas cartridges and is fit for both residential and commercial usage.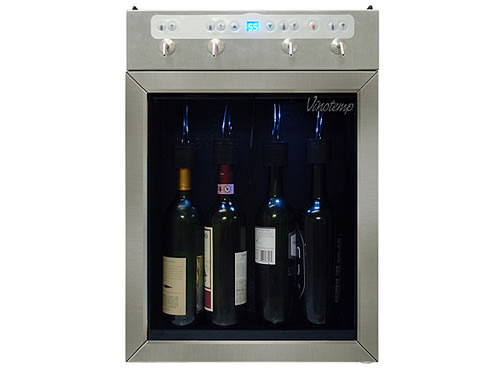 Vinotemp, who has been a market leader in the wine storage and refrigeration industry for the past 25 years, has dedicated the past two years to satisfy the needs of residential and commercial wine dispensing and storage by offering practical and award winning solutions for the same. Vinotemp's Dual-Zone Wine Dispenser and Cooler, launched two years back performed the dual function of a wine dispenser combined with a wine chiller. The Stainless Steel 4-Bottle Wine Dispenser is the newest addition to the family with a dimension of 16.35" W x 17.45" D x 24.55" H. It is available for a purchase at vinotemp a price of $1249. It will certainly make a great Valentine gift for the wine enthusiast in your life.