Hublot Big Bang UNICO Sapphire Watch Hands-On
In addition to the sapphire crystal-cased version of the MP-05 La Ferrari, the big "transparent" news from Hublot for 2016 is this all-sapphire-cased version of the Big Bang UNICO.
Difficult to properly capture in pictures, I think anyone handling this interesting sapphire watch will be impressed by it, and compared to other all-sapphire crystal watches, the price is a relative bargain at under $60,000.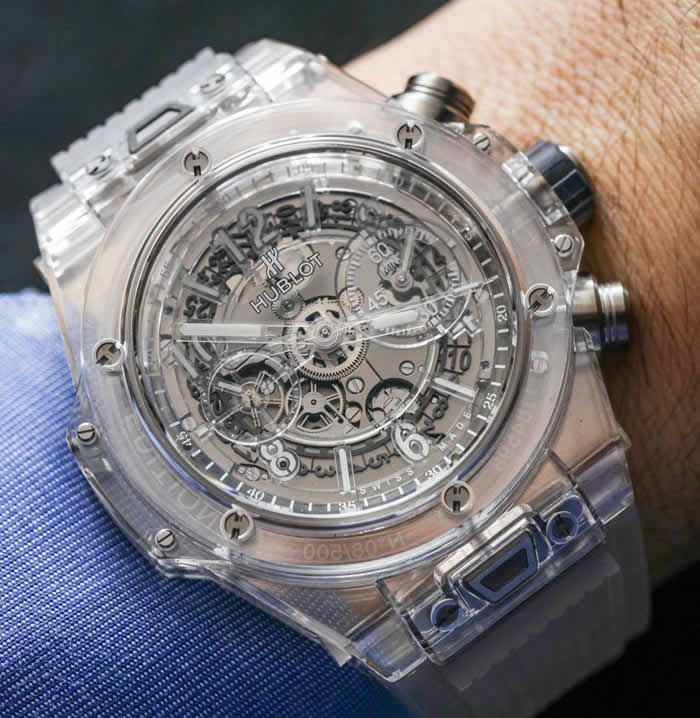 In fact, the Hublot Big Bang UNICO Sapphire reference 411.JX.4802.RT might be the most affordable all-sapphire-cased watch to date. Not wanting to merely respond to the sapphire crystal-cased watch trend, there is a more poetic angle to the Hublot Big Bang UNICO Sapphire that echoes an area where Hublot was an innovator about a decade ago.
Back when the Hublot Big Bang first came on the scene was the same time that Jean-Claude Biver helped introduce the all-black "phantom" watch concept. I recall a few years ago when he gave his speech about how all-black watches represented "visible invisibility."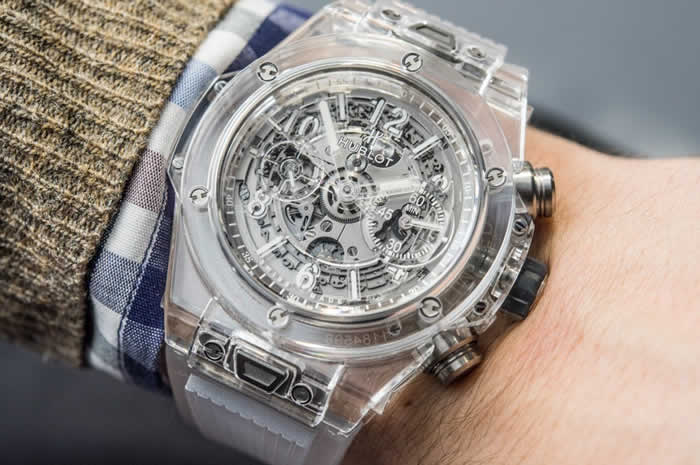 The trend gained a lot of traction with consumers, and for a long time we saw a good number of successful (and admittedly cool) black-on-black watches which retained legibility by mixing textures, finishes, and shades of black on the dial. 
For Hublot the antonym of an all-black watch isn't an all-white watch. While there have been all-black "phantom" Big Bangs, I don't recall there being any all-white models. Rather, the opposite of an all-black watch which ironically retains the spirit of "visible invisibility" is a transparent watch. Clever.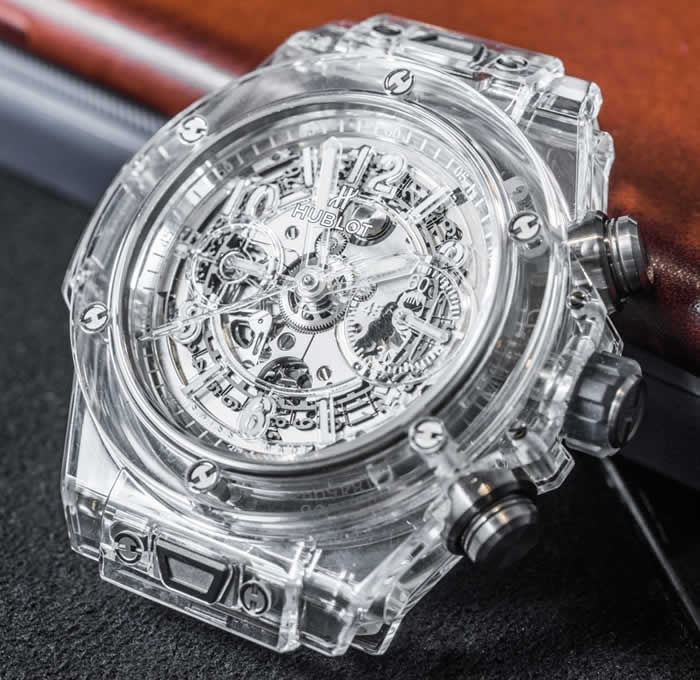 This helps explain why the Hublot Big Bang UNICO Sapphire doesn't just have an all-sapphire crystal three-part case, but also transparent elements on the dial such as the hands and even the strap. I don't think "transparency" will become the new "all-black," but it is a cool concept and admittedly works quite well for the Big Bang UNICO. 
I published a full aBlogtoWatch review on the Hublot Big Bang UNICO watch here where you can get more of my thoughts on this collection that I personally admire. Aside from the sapphire crystal case and unique transparent elements, this watch is the Big Bang UNICO in all ways. The case is 45mm wide and water resistant to 100 meters (something to be proud of) with titanium screws.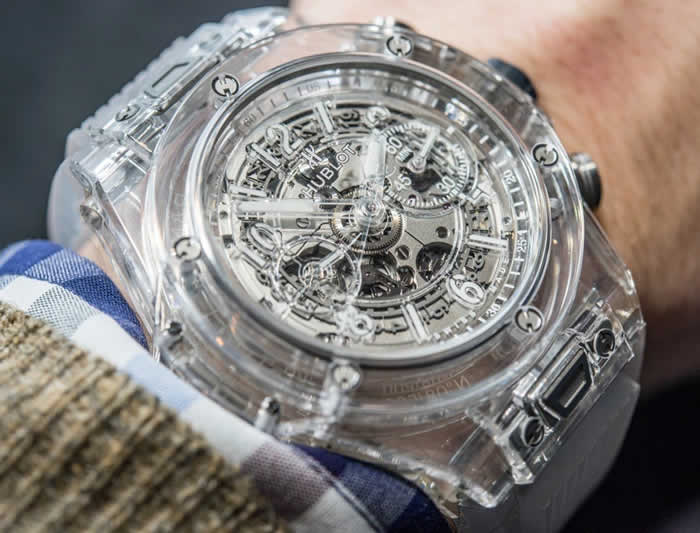 Hublot does not produce the sapphire crystal case themselves, but refer to a local "Swiss specialist" supplier. Looking at the dial – which is already skeletonized as is – feels like seeing an x-ray of a Hublot Big Bang UNICO watch. The painted SuperLumiNova on the hands and hour markers preserves legibility, but the concept here is full transparency… and it works.
At first, it is a bit odd to see the transparent hands moving on the dial, but to be honest, Jean-Claude Biver is right, and this is the opposite of an all-black watch, but it feels like it fits in the exact same theme.