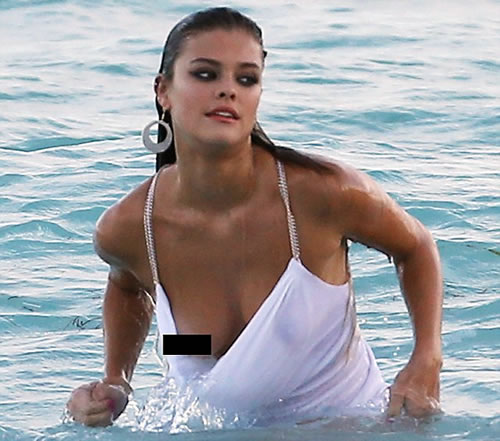 [contentblock id=2 img=adsense.png]
With the exception of one little wardrobe malfunction. Nina Agdal looked like Venus the goddess of love emerging from the ocean on Tuesday, The 21-year-old Victoria's Secret model wore a sexy white gown during a beach photo shoot in Miami, Florida.
[contentblock id=1 img=adsense.png]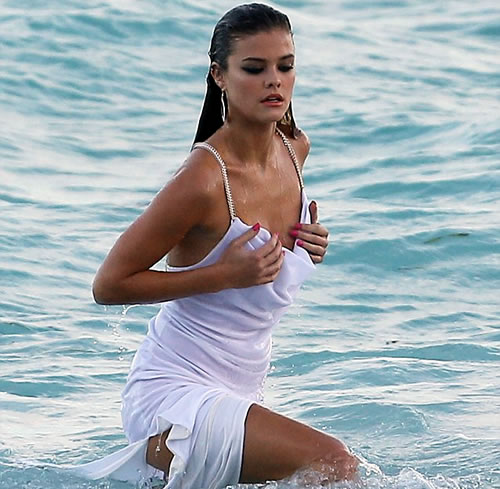 She was posing at water's edge for Bebe's Spring 2014 campaign and looked fabulous in the beach photo shoot while making poses in the wet dress. considering how perfectly happy she continued to look when her dress slipped to reveal pretty much her entire right breast during a photo shoot in Miami Beach.
[contentblock id=2 img=adsense.png]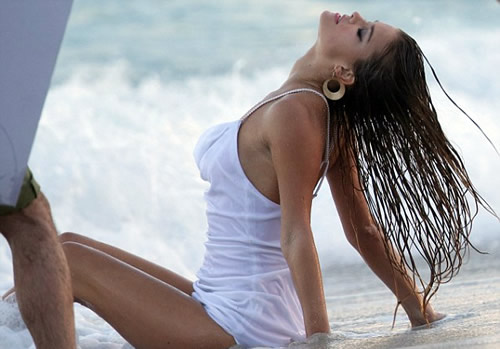 Agdal instead just rearranged the dress' neckline and got back to the business at hand. Later on in the shoot, she was joined in the surf by a male model.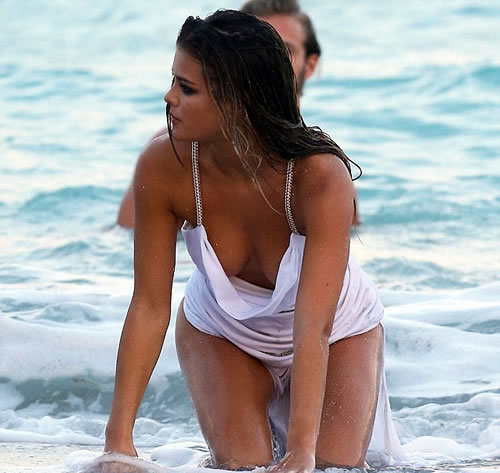 The Sports Illustrated swimsuit model came out of the water and her top as her soaking wet dress failed to cover her all the way up. Nina wore her long brown hair down and pulled it back after dipping in the water. She had on smoky eye make-up and bright red lipstick and accessorized with a pair of large golden hoop earrings.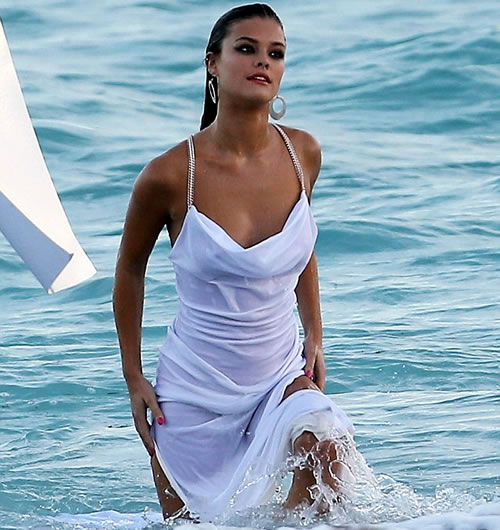 The Danish model gave the photographers a full range of poses as she laid on her back in the sea foam and on her stomach. She also posed kneeling with her arms crossed, on all fours and with her head tossed back. Adgal recently started dating 25-year-old Max George of the British boyband The Wanted.
[contentblock id=3 img=gcb.png]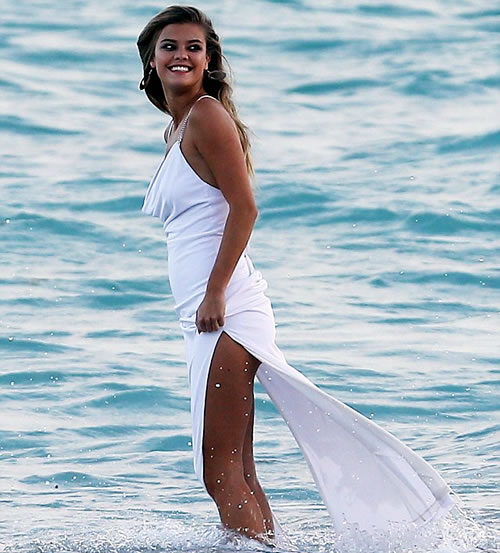 Max has been smitten with his new love and recently described her as 'the most beautiful girl I've ever seen. Agdal, whose new boyfriend is The Wanted's Max George, talked about her split from Levine for the first time in her interview with the mag.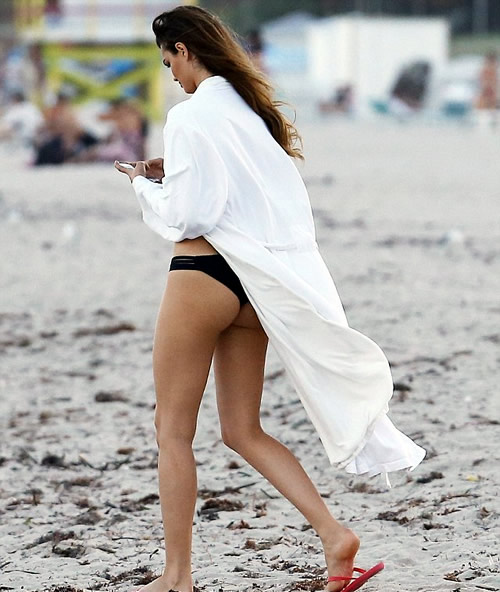 "I am 21 years old, and I don't think anyone who is 21 knows what love is about yet," the model said. "I think love just happens. It happened to them [Levine and fiancée Behati Prinsloo] and I'm happy for them. I am not even worried about anything like that."
"If something is meant to be, then it will be," she continued. "I feel like so many young girls have this idea of a relationship or marriage or love and [they] don't even know. We are 21 years old, okay? Go out, have a tequila, and stop worrying about it." Then again, Agdal also has George going gaga over her at the same time.
"We became friends quickly and we got on really well. We stayed friends for six months and eventually we said, 'Shall we make a go of it or what?'" the British singer told OK! About getting romantic with Agdal. "I'm no relationship expert, but I like the way this one's happened. I wouldn't change anything."