Lady Gaga Left Heartbroken By Sandy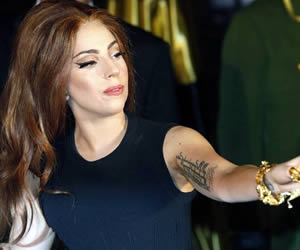 Lady Gaga has been left heartbroken by the scenes of destruction in her native New York after super storm Sandy wreaked havoc across the country's East Coast on Monday. The Born This Way singer was on tour in Puerto Rico when the post-tropical hurricane made landfall, and she admits she was plunged into despair as she watched the disaster unfold in her home state.
Lady Gaga took to her Little Monsters blog to offer support to the victims of the storm, admitting she felt as though her "entire childhood is underwater" as New Yorkers work to rebuild the damaged city streets. In a post entitled Hurricane Blues, she writes, "I'm not sure where to put these feelings. I'm so sad. I feel like my entire childhood is underwater. The boardwalk in Atlantic City (in New Jersey), my old apts (apartments) in Brooklyn and LES (Lower East Side). All the bars and friends.
"I'm just so sad. I know it will be OK. I'm not sure why I feel this way. Maybe homesickness, or maybe it's easier to be a gypsy if you know your soul grows from somewhere great. And that great place protected me my whole life, now parts are destroyed. Just very sad and pensive today. Thinking of everyone today."